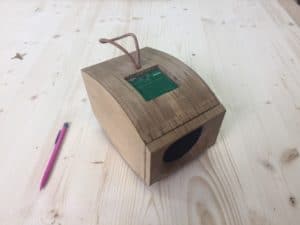 When I asked Jean Beauve, the CEO of 0W1 , if we could meet, I was expecting to discover a beautiful and super innovative connected wireless speaker. Not only was I not disappointed, but I also discovered a quite refreshing real green vision of the music business.
Back to the Music
0W1 is a young project set up by a sound enthusiast who has been making his own speakers since he was 13 years old. The goal is simple: back to the music, hence the 0W1, where the digital's 0 and the 1 are put to work for the W symbolizing the analog sound.
 » My speaker was designed small and nomadic, but first and foremost, it must offer a remarkable sound,  » he explained.  » Yes, there are many portable speakers on the market, but none are qualitative. Mine uses for example the least possible components, which is positive in terms of quality since each time we add a component, we degrade the signal.  »
An Eco-Responsible Speaker
Fewer components mean a better environmental performance too. The product has indeed been impacted by many eco-friendly choices. The battery is based on nanophosphates, a chemistry presented as more expensive and more respectful of the environment. The hull should be made from a bio material under development.
Finally, the 0W1 speaker is not designed to work via streaming but relies on an internal hard drive: in Jean Beauve's eyes, streaming and the power consumption inherent to the Internet are an environmental nonsense ; it is therefore essential to promote internal music storage.
Of course, such a speech will have to be confronted with the complete ecological footprint of the project, taking into account, for example, CO2 emissions due to its production. Nevertheless, as music has become a consumer product, paying attention to the consequences of its overconsumption makes perfect sense.
Beacons and Heartbeat
The speaker is however not refractory to the Internet. Via beacons, it can recognize the room where it is and offer a suitable music. If you keep your fingers on the ON sensor for a long time, it can also detect the heartbeat and suggest suitable tunes.
Ultimately, the 0W1 is intended to host an application marketplace. No need for a laptop, it will contain itself an ecosystem of musical apps. Jean Beauve imagines a partnership with Shazam proposing to recognize via a caress (yes, the speaker is handled mainly via a « caress sensor ») a song broadcast on the radio and maybe to buy it on a platform such as Qobuz.
Financing via Kickstarter
0W1's product is not out yet (the article's images are prototypes). Much remains to be done for this start-up, including creating itself, its status still needing to be filed!
After a visit to the CES at the beginning of the 2018, the real start will be around a Kickstarter fundraising campaign. An opportunity both to raise funds and orchestrate the marketing of the product with pre-sales at 50% (a very good deal for an object that should cost around 1,200 euros). And the opportunity for Jean Beauve to prove that its 0W1will have buyers, a prerequisite for launching a more massive production.
If all goes well, we should see 0W1 speakers appear in all good hi-fi stores in September 2018.
Summary
Article Name
Le Beau Son éco-responsable selon 0W1
Description
Back to the Music with 0W1 audio D5 une enceinte éco-responsable au bon son.
Author
Publisher Name
Publisher Logo