0W1, your best audio friend.
Today, the young French company 0W1 audio takes up the challenge by offering a stand-alone connected audio system, which not only allows us to access all these features combined for the first time into a single unit but it also proposes it in a portable format. It does so along with the audio quality of a home HiFi system. It allows us to connect to our emotions anywhere, under any circumstances.
This particularity made me want to meet with his designer, Jean Beauve and I asked him a few questions.
Jean is not new to the profession. I met with him fifteen years ago when he was at the head of a Hi-Fi shop, Quinte & Sens, in Aix en Provence (France).
Hello Jean.
Before to present  your "Audio Friend", I would like you to introduce yourself. Please, tell us about your High Fidelity journey. I know you, but I'm not sure that the people who read this article know who you are.
– How did you start? With whom have you worked? What motivated you to work in the field of sound?
When I was 12, I went on vacation to my cousins. All of them were musicians, the elder played piano, the second became a professional flutist (Jazz and contemporary music) and the cadet played guitar and saxophone.
I discovered thanks to them a new world, Music, with Jimi Hendrix, Stanley Clarke, Pink Floyd, etc … Since then, it never stopped.
When I got home I decided that I had to have an audio system. So I worked three summers in a row to buy my first Hi-Fi system.
I bought records, I went to the media library, it was in the 1970s.
Very quickly, I built my first pair of speakers that already sounded better than what was found in the local trade. I sold some to friends. At 18 when I wanted to become a sound engineer, my father refused. I still became an engineer but in the medical field, another discovery, another passion.
After twelve years in various positions at Alcon Laboratories, I wanted to be an interface between Marketing and Research Department at an international level, having failed to create this position, I resigned and turned back to sound, I was 38. It was perfectly clear to me that I was not going to start right away as an audio manufacturer.
So I opened a Hi-Fi shop, it was my way of putting my foot in the stirrup.
However, It did not completely satisfy me. I quickly realized that what I was most passionate about was to make my own system. However, this experience allowed me to understand what a Hi-Fi system was and to better understand the customers need. I do not regret it, it was, in short, a mandatory transition.
A little bit later, I met with Jean-Claude NANTOIS, who proposed to me to integrate his team since I had gained experience of AV integration and that he wished to develop his company in this field. It allowed me to broaden my horizon of Hi-Fi and to meet people abroad …
But as soon as I had some free time, I used it to develop my products.
– So, with 0W1 audio, you wanted to create your own system which is, as already stated, a brand new start-up.
First, why did you choose that name? Does it have a special significance?
Yes !
In reality one should not say 0W1 but rather "zero W one": 0W1 (Oh One).
It evokes the digital world, which, I think, should be under the domination of analogue because Humans are essentially analogical, not binary.
The W being the shape of the sinusoid, it evokes the wave, the sensuality.
– I think that 0W1 audio is a team of three folks.
What are they doing ? What is their role in the company?
My partner, Philippe, is someone I know since my engineering school days. We met each other over 35 years ago.
We did the same school, he completed his cursus with a diploma in telecommunications. He has worked in several fields, at HP, THOMSON, PSA, the European Space Agency …
When he saw me making the first prototype of 0W1 audio, he quickly realized that it was something beyond sound, that this product sounded like a good friend. This is the very reason why he wanted to jump in.
Within the company, he will take care of industrialization, partnerships and negotiations with manufacturers and investors …
Inéha, the other mate on the site is a contractor. She is the Designer of our first "concept car".
– "Let's come back to your audio Friend." What a funny idea to call it a friend.
Is it because it is able to follow you everywhere? Is that the only reason?
In fact, I wanted to move forwards to "Life Style" with a product that is as acceptable as possible. Another point of departure was that I noticed the return to vinyl and wondered why this return to vinyl?
It 's not for sound quality!
Honestly, when you have a good digital source, it's as good if not better than vinyl. If one compares the same file dematerialized, there is no deviation and, if there is one, it is not necessarily to the advantage of the analog.
So the real reason is more a ritual story than anything else. Take the disc out of its pack, put it on the turntable, put the arm in … and listen to it until the end!
So I thought that I could also create this ritual by hand sweeping the enclosure and creating a ritual relationship with my enclosure, hence the idea of the audio friend.
Afterwards, I thought to amplify this concept and it became a connected object with many uses such as the one I call "Walk With Me" and which allows the speaker to change music by recognizing the room it is in , which interacts with its surroundings, can turn on the lights or turn them off. an other example is "Feel Music" which offers the user a kind of music therapy sessions based on his favorite tracks (stored on the internal disk), in fact, the applications are limitless.
– Today, you introduce me to a prototype already well advanced, of which you have already made demonstrations. What were the reactions of the people who listened to it?
I would say that from the point of view of sound quality first of all we have roughly 80 to 90% of the satisfaction of a high-end residential audio system. Knowing that a high-end system is able to respect the tonalities, the rhythm, the melody, the silences and the dynamics. That's what I've been working on.
This emotional quality has been perceived by all the people who listened to 0W1, whether they were initiated or not, which for me was essential.
-It is really a connected speaker.
Is it its function and what distinguishes it from the competition ?
It is primarily a stand-alone system, while all current mobile systems require a smartphone. No smartphone, no music. Moreover, the smartphone is limiting the emotional experience since the smartphone has not been designed to deliver and/or store music qualitatively, so its first use is related to streaming, often in MP3 transmitted in Bluetooth which further deteriorates the quality and generates some frustrations associated with the frequent changes of the rights of listening because this mode of musical distribution pays very badly the artists and rights holders.
So my system integrates a hard drive. As such, it is perceived in its environment as a local NAS, a wifi network hard disk. In this way, we can "feed" the hard disk with the music we already have in the house, and the system is also able to download music directly from a distant server (from a download platform).
My system has been fully thought from a RSE point of view or its environmental and human responsibility, I consider that streaming is an ecological nonsense and is the uberisation of the artists.
The second aspect is the connectivity with all the connected objects and the possibility of creating a platform of the uses related to the sound.
– Has 0W1's form been dictated to annihilate all the resonances that could be inside the box? Is it definitive?
No, the shape was more linked to aesthetic criteria and with the desire to encourage hand sweeping to remote the product . It is close in its shape to the definitive version, which might go even further in the spirit of the wave.
– I discover this finishes that is still rough.
What will you propose in the final version? Can we choose the color? Will there be a lacquered finish?
Other solutions are being considered that will maintain the acoustical quality but are less heavy and easier to manufacture. The material has not yet been defined. Future versions will allow us to reach a wider audience with, indeed, different finishes.
Well, the way you introduce your "Audio Friend" to me, it promises to be a good "frienship." But will its use be reserved for domestic use or can it be used outdoors ?
Domestic use in a broad sense is privileged. You can however use it on a garden party, take it with you on vacation, listen to music with friends in the middle of nowhere … but not in the pool.
– Do you think that 15 watts of rated power and a single speaker (wide band) will be enough to sonorize an interior when other manufacturers offer hundreds of Watts and a multitude of speakers?
In the spirit of a convenient and even realistic listening it is more than enough. That said, for a more festive use, nothing prevents you to synchronize several 0W1s and thus increase the sound level.
– It will be compatible with Amazon Alexa voice assistant, I believe. It is therefore a product open to the future.</p>
The 0W1 audio product should be seen as an integration plateform for audio related uses.
– I've read in the technical features that it is also able to read DSD files from it's hard drive. It's not a common feature for a portable audio system.
It is obvious that if one remains in the universe of the smartphone, it is not common, especially since the size of a DSD file in a smartphone would be quite cumbersome for it's hard drive.
With the 0W1audio Friend, one can store its files on the internal disk but also, for domestic uses on an external NAS so that one is not limited by the size and the amount of files.
From a sound perspective, what have been the key points of reference that you have set to put 0W1 audio above competition ?
From a qualitative and pure emotional standpoint, I tried to get as close as possible to the emotions I feel with my reference systems.</p>
I own a very high-end audio server that I have manufact>ured and which literally puts shame on my CEC TL0, a modest and perfectible but qualitative DAC, several Preamps including a modest Naim NAC 62 widely tuned and powered by a HiCap followed by a NAP 160 and a pair of QUAD ESL 57, I also own a pair of home-made coaxial high efficiency loudspeakers, actively driven by ATC class A electronics and to finish I own a pair of modified 4311 JBL Monitor .
Compared to portable products, I dont think that there is a single product that reachesn> this level of emotional quality. On a wider> product basis, It is obvious that the 0W1 audio Friend does not achieve high sound pressure levels, but nobody use these levels for domestic listening …
Surprisingly, It can create a wide spatial effect from it's single loudspeaker at least as convincing as that provided by the best stereo mobile sound systems and above all an unconventional wide directivity.
– What about streaming services, will it be Qobuz compatible?
It is already compatible with Qobuz, Tidal, Deezer, Spotify, YouTube, Napster, Soundcloud and Bandcamp. And, of course, it has access to all the web radios.
To summarise, its primary benefit is to provide true high fidelity quality, not the one that we are used to get from competitive products that often sounds like broadcasters and are far away from the Hi-Fi standards ?
Yes, and that easily sounds obvious.
– You claim that you will develop a whole range. Does this mean that there will be other loudspeakers for a multi-room solution ? Do you plan to develop a TV sound bar, f>or example ? Any wall loudspeakers? A complete SONOS-like or Bluesound-like wireless n>set? Making use of a proprietary Wifi protocole?
It is already a Sonos-like multi-room system, but It is significantly of wider use because it is truly Smart, wireless and autonomous. Sonos is not Smart, it requires in house external server and a wall power connection … The 0W1 audio friends can be used for parties anywhere in the world.
As for the sound bar question, it is a possibility. The technology that we use embed a video output that Is disabled to enhance the sound quality.
As far as integration is concerned, this is already foreseen. we can integrate the 0W1 Sound Engine into a DIN Rail fuse. It would then connect to a NAS server in the house and drive a pair of in-wall loudspeaker with exceptional sound quality at low cost bringing Smart connection to each room.
As for other products, We have already worked a bit on other versions a smaller and a bigger one that could possibly allow it's use for small live concerts and possibly more Hi-End sound system solutions thereafter.
– Last question: do you quit the Hi-Fi or are you thinking of projects of manufacture of electronic or streamer / server or other material purely High Fidelity?
We will not manufacture separate products, streamer type, amplifiers, speakers, I do not see what would be our added value, there are already excellent products on the market.
In any case, I strongly believe in interactive devices. Also, as soon as I have the opportunity to listen to a device of this type, I do not deprive myself.
Let those who read this article know that Jean Beauve have an experienced and expert ear in the field of musical restitution.
To be convinced of this, it is enough to note that 0W1 Friend is right in the middle of Quad electrostatic panels which contributed not only to make the reputation of the British brand but also to make the reputation of the High-Fidelity in general.
>
These loudspeakers are still today considered as world class references.
Getting Started: As this is a prototype, I will not be able to expand on its use. That said, I used it with a laptop that displayed the music recorded on the 0W1 internal hard drive, sorted by author, genre, album … as with any network drive. The communication between the PC and 0W1 Friend is very fast. The connection did not encounter any particular problem.
The enclosure is completely autonomous. Therefore, it does not have an AC outlet. It draws its energy from its internal battery which provides of operation more than 6 hours of musical pleasure.
Result of the listening: With a small speaker and a maximum power limited to a good fifteen watts, I did not expect to hear a sound of such an amplitude.
Notwithstanding, musicality is evident from the first notes.
The use of a single professional-quality broadband speaker probably contributes to the overall result but it is still surprising to achieve such a musically realistic presence with such a small speaker in such a small system.
The medium is very well tuned, to the point of making a voice credible, in its tone and its height. The sound is rather warm, which is positive and if you limit yourself to a sound volume that does not exceed 90% of the maximum power, you reach a more than sufficient level, without distortion.
Another striking quality is the effect of the stage, which gives it a beautiful sound space, to the point of giving the illusion of dealing with a stereophonic listening.
I have even been able to distinguish several planes staggered in space, which is quite astonishing.
I listened to Flac files of Arthur H, Barbara, Julien Clerc, Wende, Dire Straits, Oscar Peterson, La Tosca, piano … a whole repertoire I know by heart.
Each time, I appreciated listening without stress, far away in any case from the canons of this type of products, which too often deliver a metal box sound.
In conclusion, this 0W1 Friend does not display disproportionate claims but, within the limits of it's abilities which, moreover, are not common in this category, it is to be taken into consideration.
With this evidence of being able to choose his musical interests, according to his artistic or psychosensory choices, while having a range of interactive possibilities that make him unique.
Yes, for me, the 0W1 Friend is a musical and faithful friend, who will follow you everywhere, respecting your tastes and teaching you to connect to your emotions.
In this, it constitutes a form of ideal for the one who seeks to connect to the music, avoiding any taking of head.
"Feel music, feel soul" is the slogan used by this newly founded French startup.
I sincerely wish them success with there first Friend and I am looking forward to seeing you again with the final version.

Oh oui !
Public Audio sessions 2017 : Carrefour de l'Innovation, Aix-en-Provence on wenesday morning june the 7.
Paris, Vivatechnology on Orange booth June the 17, all day long.
Festival Son & Imagespan>, Paris October the 14 and 15.
Summary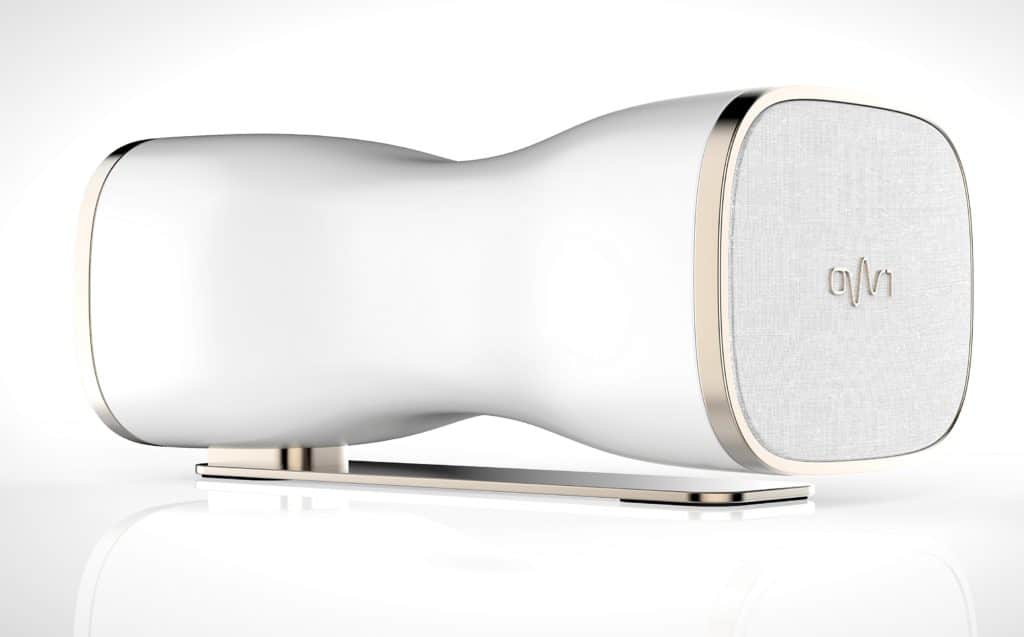 Author Rating





Brand Name
Product Name
Price
Product Availability